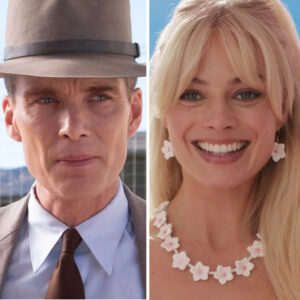 'Barbenheimer': is this the most important box office battle in a decade
As Hollywood goes on strike, a toy faces a nuclear physicist in a fight for revenues.
As the days get hotter, we enter this time of the year when each week in the cinemas means a new summer blockbuster – at least as long as strikes won't shut down the American movie industry.
The greatest show of this summer might not even be a film, but a box office fight between two major productions: Barbie by Greta Gerwig and Oppenheimer by Cristopher Nolan (Inception, Interstellar). Both are set to be released on July 21, 2023, which has resulted in a massive online debate on what people should watch and why on the opening weekend.
The first wave of discourse hit Twitter almost immediately after the announcement of the release date for both films, with people taking sides and discussing which film should be watched first. Since then, an avalanche of memes, quips, and mashups of trailers transformed the hype into a phenomenon named 'Barbenheimer'.
BARBENHEIMER by @ThatTallGinger. Available now on our web store: https://t.co/0h1EsnASzQ. pic.twitter.com/e9P7eGRiLC

— Layered Butter (@layered_butter) July 7, 2023
Barbie is winning, and it is hardly surprising. After all, one film is about dealing with mortality, the sense of self-purpose, and challenging American elites, and the other one is a historical thriller titled Oppenheimer.
Barbie has had a buzz since the first fragments of information about the film started to come in, and things only spiralled upward after Margot Robbie (The Suicide Squad, The Wolf of Wall Street) took over as lead, replacing Amy Schumer.
It is no mystery why the film has such a mass appeal to the public – full of colour, directed by one of the more celebrated directors of the last decade, with huge names in the cast, it escaped a niche of a film for a young, predominantly female audience and is expected to attract a wide audience seeking entertainment, drawn in by the result of "literally me" culture and waiting to see the famous dolls including Ryan Gosling portraying Ken.
Oppenheimer is starting from a significantly more difficult position, as its appeal is its technicality and the absence of "fun". Christopher Nolan, however, assembled a cast of absolute stars, with Cillian Murphy, Emily Blunt, Florence Pugh, Rami Malek and Matt Damon being only the tip of the iceberg.
A biopic about the father of the atom bomb is going to be a technical masterpiece itself: the internet is now discussing the film roll that weighs 600 pounds and is 11 miles long and argues whether Nolan created a new film format. After all, we haven't had a chance to see a 70mm black and white IMAX-standard film created without any use of computer-generated imagery (CGI).
In effect, it is so technically complex that only selected theatres across the world are capable of displaying it in the way its creator intended.
Two films being released on the same day is not a new phenomenon, and the result of such a challenge does not allow us to predict how a film will go down in history.
It is also a well-established marketing strategy, called counterprogramming – in broadcasting, pitching two productions attracting different audiences against one another creates a buzz which effectively benefits both. The Thing and Blade Runner both premiered on June 25, 1982, while Ghostbusters and the Gremlins were released simultaneously on June 8, 1984.
Harbingers' recommendation? See both, but our hearts are with Barbie in this battle.