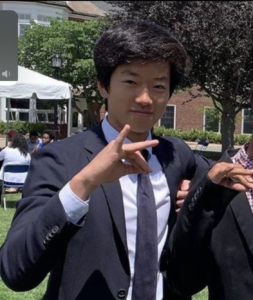 Ilya
Kan
Fiction & Poetry Section Editor
Almaty, Kazakhstan | Boston, United States
Co-founder of Harbingers' Magazine
Ilya
Kan
Fiction & Poetry Section Editor
Almaty, Kazakhstan | Boston, United States
Co-founder of Harbingers' Magazine
Born in 2004, Ilya Kan is a Kazakh national of Korean origins, currently studying in the United States. He is fluent in Russian and English, and has some command of Kazakh. 
At Harbinger's Magazine, Ilya is the editor of the Fiction & Poetry section and writes about history, economics, and culture as well as creative writing pieces.
Ilya's past projects include a month-long research project on the Holocaust in Poland, after which he wrote a short story and later turned it into a script; and a short project on Korean deportation from the USSR during the Second World War.
Ilya's main interests are economics and history. He enjoys reading autobiographies, historical accounts, and classical fiction.  Outside of school, Ilya is interested in football, fishing, and chess. He also enjoys watching military movies with his father, and often goes hiking with family or friends.