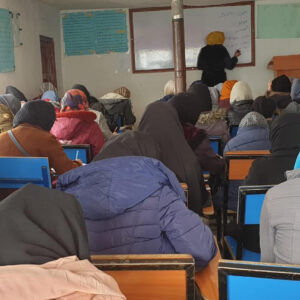 Meet five Afghan girls who dream big for their future
In Afghanistan, teenage girls aspire to pursue a future in many fields, from journalism to software development.
After the Taliban seized power in August 2021, they banned girls from receiving a high school education. Despite these hardships, they are still determined to achieve their goals.
Five students of the journalism learning project at Harbingers' Magazine – Zainab, Shanhaza, Swita, Naziya and Zohra – shared their dreams for their future.
Zainab H., 13
When I was in school, I dreamed of finishing my education and becoming a doctor. This was so I could have my own space and employees to help others and be someone beneficial to society. Unfortunately, the gate of the school was closed. Now my only option is to read old books and use some educational apps on my phone.
Shanhaza N., 17
Before the Taliban came, I wanted to become a singer. I loved that when I sang at home, school, or some party, all the people there liked my voice. But when the Tailban came, I couldn't go to school or study. The reality singing competition Afghan Star was closed at that time,
I was at home and I started to teach a kindergarten-aged baby for free. I thought when I can't study I must do something for children and they can learn something from me. Now I want to become a journalist. I know that it will not be easy but I will keep working hard to achieve my goal.
Why we don't publish full names of Afghan students?
In short, to ensure their safety.
In Afghanistan, providers of education for girls are targeted by the Taliban authorities. This is why Harbingers' Magazine does not publish full names nor pictures of Afghanistan-based students participating in journalism classes organised by the Oxford School for the Future of Journalism in partnership with LEARN Afghan organisation.
To learn more about the situation of girls in Afghanistan, please read Sofiya Suleimenova's interview with LEAN founder Pashtana Dorani.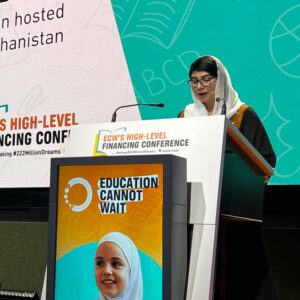 Swita R., 16
When I was small, I loved to become a journalist and a doctor in the future. So, during my time at school, I tried a lot to achieve my goals. But when the Taliban came into our country, they banned all education for girls and didn't allow us to continue our education.
So, LEARN Afghan (a non-profit that provides access to quality education, healthcare and humanitarian aid for women and girls – edit.) gave us this opportunity to achieve our goals. I am really happy to continue my lessons there and I can study my favourite major in this school.
When I finish this major in journalism, I want to be a successful journalist to voice my people's problems and help solve them. In the future, I want to make a news network that other girls can work at and help our people. They should also tell the news from all around the world.
Naziya N., 13
Before the Taliban came to power, during my time in school, my dream was to become a teacher. Unfortunately, I couldn't continue my formal education, and now I find myself unable to pursue that career path. However, I have made a new decision – to become a software developer.
The beauty of this field is that it doesn't necessarily require a formal education or degree. There are ample online resources available to learn and grow in this profession, and many companies are open to hiring individuals based on skills and experience, even without an official graduation degree.
Once I become a software developer, my plan is to utilise my knowledge and experience to teach other girls. I am deeply committed to making a positive impact and empowering Afghan girls in the field of technology. Together, we can create a better future. In this way, I am becoming a teacher in a different capacity.
Zohra W., 17
I would like to become a journalist in the future. It's one of my biggest wishes to work as a journalist or a news anchor. It's a good opportunity for me to study the journalism major that I am enthusiastic about because I believe that through this job I could help myself and society in different ways like by raising my capacity-building skills and solving people's problems. Before starting our lessons, I participated in different programs, including one in oratory classes.